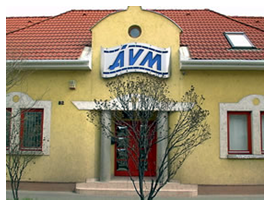 The founding members of AVM Ltd., established in 1993, during their previous activity have acquired a wide range of national and international experience in the designing and managing of the mechanical and electrical technological equipment used in water treatment and sewage treatment. Therefore, the enterprise aimed at this field of the market.
At the moment our company provides employment for nearly forty people, and technical direction is carried out by 7 engineers, who are experienced in a variety of fields. Our company's wealth has grown tenfold, and its sales revenue exceeds one milliard forints.
Our organisational structure can be seen by clicking here.
The continuous development of the organisational and technological background enabled us to introduce, in 1999, the ISO 9002, then in 2003, the EN ISO 9001: 2000 quality assurance system.

The structures designed by us are being brought into realisation in our modernly equipped manufacturing workshop, thereby offering the opportunity to handle on-the-spot any contingent problems which may arise, as our designers are in direct contact with the specialists working in the production fields.
The main activities of our company:
Production, assembly and installation of equipment for the excavator bridge, gratings, button tables, sludge water separators, and decanters used on sewage farms.
Design, production and on-site assembly of flood-control works, and other water control and regulating works, sluice systems of sewage farms, as well as their support establishments, charge bridges, and barriers.
Production and on-site assembly of steel structure buildings, industrial sheds, tanks and accumulators.
Production and installation of advertising units.
Design, production, transport and installation of machines for biogas production and utilisation, and their equipment.
Realisation of sewage farms in general trade contracting system, as well as the design, production and technical servicing of the applied machines, equipment and instruments
AVM Ltd., apart from in Hungary, carries out the installation work of products made by their own production, and the technical servicing of sewage farms in Germany, Austria, Bulgaria, Poland, Romania and Russia.

In our capacity of main contractor, by fully satisfying the customers' needs, we are going to contribute in the future to the successful realisation of investment in sewage farms.